Course details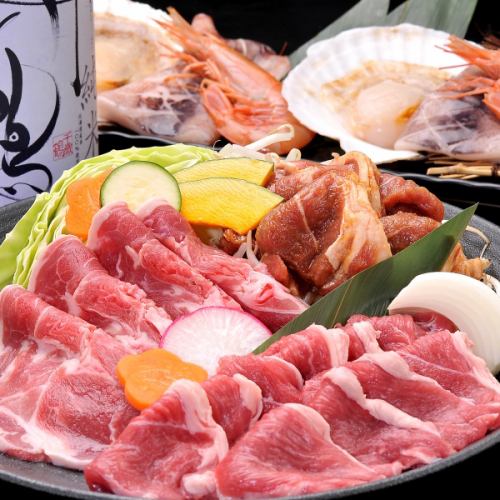 【Seafood Grilled · Raw Lamb / Mutton etc all 5 types Genghis Khan 100 minutes Eat All-you-can-eat plan】 With salmon How much
By using a coupon4500 yen
【Tax included】 Elementary school students half price
1

-

200persons

All-you-can-drink available

Hokkaido Limited Sapporo Classic Tallow and Strong Carbonated High Ball, Lemon Sour, Cocktail, Soft Drink etc. Content Enrichment / Ebisu Barrel Stud, Ebisu Black Okuro, Taxi Wine, Local wine, Earth Shochu with + 500 yen
All you can eat seafood! All you can eat grilled seafood! Our sticking commitment "Raw lamb (Australia's lake view high-quality safe raw lamb used)" and mothers who have nostalgic "Mutton Roll", Soaked in special sauce "flavored lamb", " Pork "," Chicken "all five kinds Genghis Khan and Rice are all you can eat.In addition, Hokkaido Limited Sapporo Classic You can drink as much as you can drink this price!
Course menu
■ Seafood Grill (All you can eat)
= Shrimp, scallop, squid
■ Raw Genghis Khan (All you can eat)
= Australian lake view
Use high quality and safe raw ram
■ Flavored rumjin gijskan (all you can eat)
= Immersed in special sauce sagure overnight
Soft tailoring Ram Jin Giskan
■ Mutton Roll · Genghis Khan (All you can eat)
= A nostalgic lamb for the Hokkaido people.
Compared to rum, there is reasonable litter of lamb
I'm happy for Genghis Khan fans Mutton
■ Tonjisukan (all you can eat)
= Pickled pickle in its own pickled sesame sauce
Soft-tailored soaked overnight
Original swine Genghis Khan
■ Tridiscan (All you can eat)
= Marinated with Special Sauce Sauce
Tailored toppings onion leafy tailoring
Original chicken Genghis Khan
Grilled vegetables (all you can eat)
= Cabbage mainly made in Hokkaido,
Onion, carrot, green pepper, potatoes, etc.
※ The season will change the origin of each vegetable
■ Rice (all you can eat)
= Hokkaido brand "Natsunobashi"
Rice cooked plumply
☆ Salmon noodles (served for the number of people)
================
Commitment of sauce
Homemade sauce used in our shop
Use plenty of flavored vegetables
Blended citrus and seasoning
It is a rich taste.
Besides lamb, beef and pork
Sauce is also good compatibility.
All-you-can-drink menu
·beer
· Sapporo classic drill bulldovers
· Shochu
· Shochu / sweet shochu / wheat distilled spirit / oolong hi / green tea high ※ You can choose a way to drink such as rock · water splitting.
·sour
· Lemon sour / lime sour / grapefruit sour / kiwi sour / pine sour / man plum sour
·Sake
· Cold Sake / Hot Pot
·Highball
· Tris High Ball / Ginger High Ball / Cork High Ball / Yuzhay Ball / Ringo High Ball / Momo High Ball / Kiwi High Ball / Pine High Ball / Strawberry High Ball / Yubari Mellon High Ball / Hokkaido Hask Cup High Ball / Ome Hi Ball
·Cocktail
· Mojito / Shandigerugu / Gin tonic / Jinbac / Mosccommure / screwdriver / bulldog / cassisoda / cassis orange / cassis grapefruit / cassis oolong / cassis pine / apple ginger / apple orange / fuzzy guest / peach grapefruit / peach oolong / peach pine
·wine
· Glass wine (red · white) / Operator / Kitty / Wine cooler / Kiwi Splitzer
·Fruit wine
· Ume alcohol / Yuzu / apple sake / Momo sake * You can choose a way to drink, such as rock and water split.
·Soft drink
· Coca · Cola / Ginger Ale / Orange Juice / Grapefruit Juice / Pine Juice / Calpis / Oolong Tea / Green Tea
· 【+500 yen drink】
· Ebisu barrel / Ebisu black ointment / Tokachi wine (red · white) / Otaru wine (red · white) / local sake (beauty of Susukino · country rare · man of mountain · north of wins) / shochu district (Kitari, Okuwakuro · Koishin Tan · Konbu Shochu) / Kozue Tan's Plum wine
Reservation deadline

2 days before the desired store date until 23 o'clock
Available days for reservation

Monday - Sunday - Public holidays - Holidays
Coupons that can be used with this course
2018/11/02 update